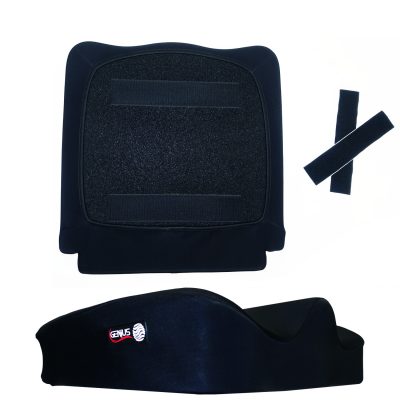 Stability, alignment, prevention
The anatomically shaped base in combination with the mouldable Velcro elements ensure postural alignment and they can be positioned to correct or contain the patient's postural needs. In the PRO version, the cushion cover made of SUNMATE provides a high degree of prevention for decubitus ulcers.
Custom made
The preformed base and restraint elements can be made to measure to accommodate the needs of the most demanding patients (asymmetry, pelvic fixation, etc.). Every single element can be customised during production.
Elements for customised configuration
Genius is an excellent postural cushion thanks to the possibility to customise each of its components. Made in our laboratories, it guarantees a correct posture for both adult and paediatric users regardless of their pathology. It comes with certain basic configurations but it can be modified in the following parts: semi-rigid cushion base, abduction wedge, adductor wedges, lateral pelvis supports, 3DX breathable material in the ischial area, anti-decubitus material in the ischial area, total cushion cover in anti-decubitus material, incontinence lining.